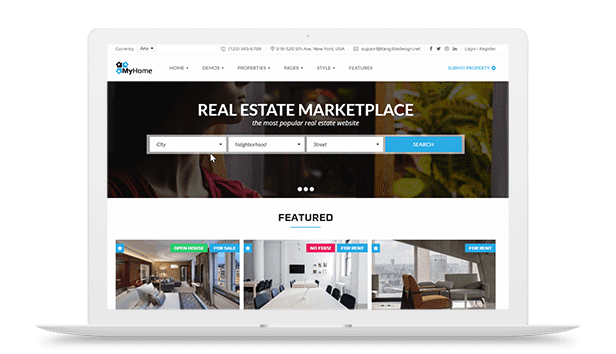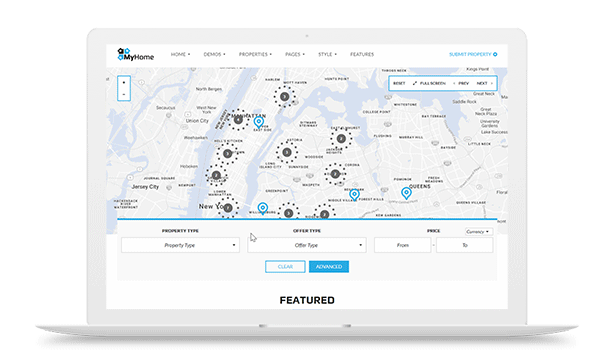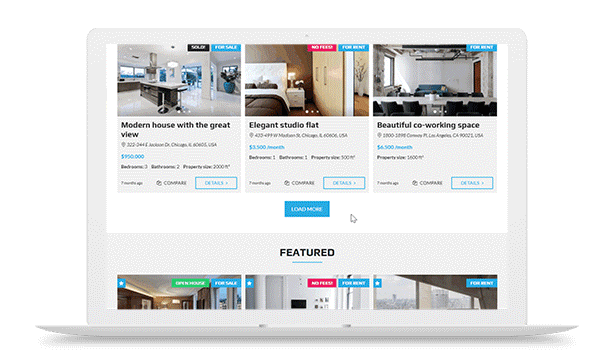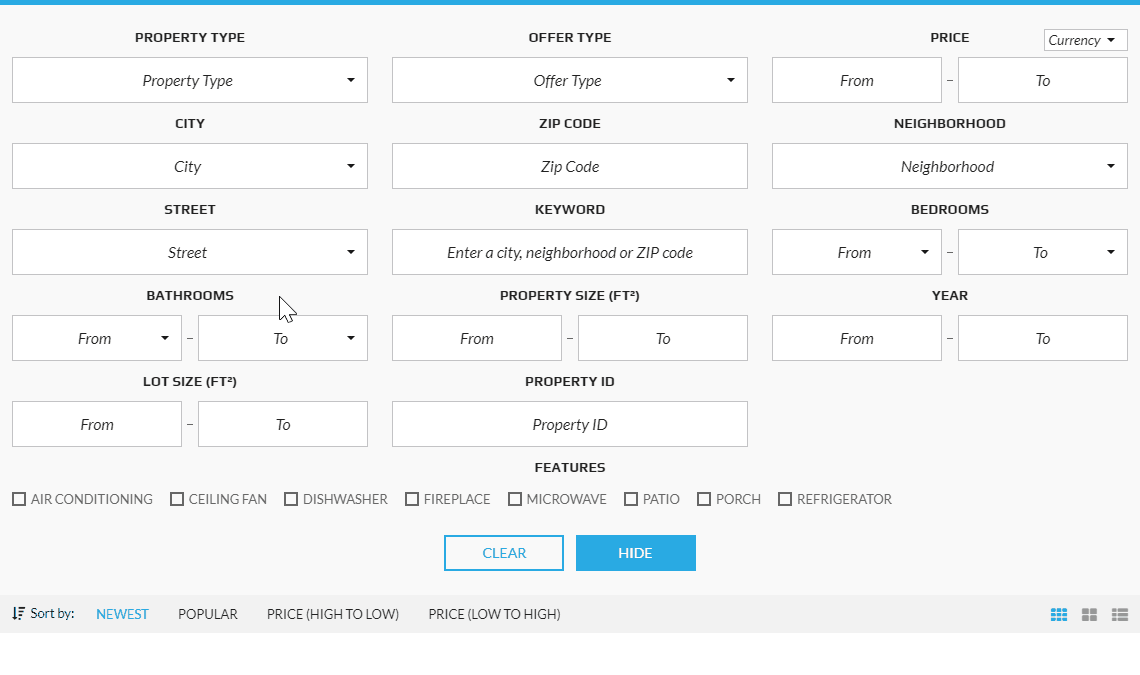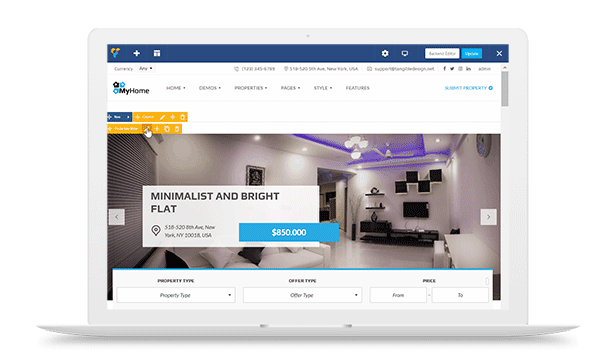 Quick setup
Easy to use one click demo import
6 demos to choose from

Defult
Agency
Directory
Marketplace
Investments
Agent

16 homepages

3x Property Slider
1x Image Slider
5x Map
3x Video
2x Directory
2x Image 

All images included
All videos included
Ready to use and easy to customize "Contact" & "About us" pages
You can set your currency & units of measure
You can translate it easily and for free
Add any new property field (e.g. garages, roof type)
Build page easily with drag and drop page builder
Configured, built-in internal cache to speed up your page
Get buzz effect – Facebook, Twitter, Pinterest and more social share built-in
The easiest searching
Dynamic searching and instant results
Add unlimited new property fields, modify its names, how to display field on the search form, change slugs (part of the link e.g. /for-sale/,
change order of the fields
ultra rapid search by map
Hide fields based on the property type e.g. hide bathroom when property type is office
Filter child field values by parent field (e.g. City > Neighborhood > Street)
Multirent price option /day, /week, /month
Autocomplete suggestions based on available options (no empty suggestions)
Compare unlimited properties
Property card – gallery or single featured image
Flexible labels (add new or remove): For Rent, For Sale, Sold, Hot Offer
Easy to navigate:

Highlighted Active Fields
USefull labels with "remove" buton
Sort by: Price, Popularity or date
3 grids
Customize style
Mobile & tablet ready
Upload logo
Choose page primary color
Flexible header styles
Sticky and transparent menu options
Multi column dropdown menu
Flexible footer styles
10 000+ map styles

MyHome Gray Pallete
Roadmap, Sattelite 
Snazzy Maps – more than 10 000 styles to choose from

800+ Google Fonts
Parallax / video background
CSS 3 animations
Dedicated icon pack
Well organized, commented and clean code
Child theme ready
Property page
Order / hide sections
Property details
Gallery & slider options
Agent profile
Flexible contact form
Map with "nearby" option
Video
Virtual tour
Property plans
International
Easy to translate to any language
WPML compatibility
Free translations in 6 languages 73-83% – español, français, हिन्दी (hindī), polski, italiano, Deutsch
Maps in your language
RTL ready
SEO & speed
Optimized for Google PageSpeed Insights
Breadcrumbs
Microformats
Responsive images
Image lazy load
Built-in-cache
W3 Total Cache compatibility
Yoast SEO compatibility
Page builder
Build websites without any coding knowledge
Based on the most popular WordPress page builder plugin (more than 330 000 licenses sold)
19 MyHome exclusive elements (not available in any other theme)
30+ premium elements
50+ standard elements
Frontend and backend editor
Animations, videos and full flexibility for not technical users
Frontend agent panel
Agent fully compatible with WordPress users
Fully flexible submit property form

required fields
instructions
change order
default map location

Moderation

ON – every property need to be accepted by admin
OFF – every property is auto published

Payments

Paypal integration
Stripe payments
If payments are "ON" everyone need to pay to publish property

Flexible user fields

Add any new field to the agent profile e.g. organization, fax
Reset and recover password.
Add link field e.g. personal site
Premium plugins ($122 value for FREE)
Visual Composer – the most popular page builder with more than 330 000 licenses sold) ($34)FREE
Ultimate Addons for Visual Composer – the most popular premium addon to Visual Composer ($25) FREE
Revolution Slider – the most popular premium slider plugin ever ($25) FREE
Easy Social Share Buttons – the most popular premium social share plugin ever ($19) FREE
Advanced Custom Fields PRO – free version power more than 1 million websites. MyHome include PRO version of it ($19) FREE
You can read more about Bundled Plugin here.
IDX Broker Integration
Safe Purchase
5 start rating
Themeforest featured item of a week awarded
Themeforest weekly top seller awarded
Quality checked by Envato
Free future updates
Top-notch support
Theme dedicated Help Center
Support team waiting to help you with all questions or fix any problems
We help with installation
90+ articles in the Knowledge Base
Need help ?
We will do our best to help you. Please send us an email explaining the issue – support@tangibledesign.net
We will solve it faster if you provide necessary logins and passwords in the email (wp-admin and FTP)
Changelog
If you update from 1.X to 2.X version please remember to backup the files. For more information about update please read this article: How to update MyHome?
Here you can find article about MyHome v. 2.0 Update – 50 most important new features
3.1.8 – 6th September 2018

Improved: "No Photo" Icon on the property cards if there is no images assigned to property
Update: All plugins
Fix: Minor php bugs

3.1.7 – 4th September 2018

Added: WooCommerce - One time offer option
Added: WooCommerce - Number of properties that new registered user can add for free option
Added: WooCommerce - Number of featured properties that new registered user can add for free
Fix: Front-end Panel - attachments upload

3.1.6 – 1st September 2018

Updated: All plugins
Fix: Minor css / php / js bugs

3.1.5 – 25th August 2018

Improved: MyHome IDX Broker - new interface
Fix: Pricing Table responsiveness
Fix: Email notifications not sending emails
Fix: Minor css / php / js bugs

3.1.4 – 15th August 2018

Added: Choose Post Category for Post Carousel
Improved: When admin change MyHome Theme > Users > Property Form > "Properties expire after X days" option to unlimited all previously created expire dates are removed from the database

3.1.3 – 13th August 2018

Added: Default "Sort by" for all auto generated pages
Added: Minor PHP improvements

3.1.2 – 7th August 2018

Added: Agency can modify agents properties

3.1.1 – 3rd August 2018

Fix: Minor css, js bugs

3.1 – 29th June 2018

Improved demo content: Default, Marketplace, Agent, Investment
Added: Registration Checkbox - "I agree to the Terms of Service" 
Fix: Minor css, js bugs

3.0.9 – 25th June 2018

Fix: Minor css, js bugs

3.0.8 – 18th June 2018

Fix: Minor css, js, php bugs

3.0.7 – 17 July 18 2018

Added: Super Agent user role - can edit all properties and view trash / moderation
Added: Backend edit property - "Display additional user profiles in the sidebar" option
Update: All plugins
Fixed: Minor bugs

3.0.6 – 7 July 18 2018

Fix: Minor css, js, php bugs

3.0.5 – 5th June 2018

Fix: Minor css, js, php bugs

3.0.4 – 28th June 2018

Added: First level item margin right (px) option
Added: Logo margin right (px) option
Added: Single Property Attachments PDF / Word icon
Added: Button "See all" integrated with property carousel, post carousel etc.
Added: Admin bar "MyHome" menu
Updated: All plugins 
Fix: Minor css, js, php bugs

3.0.3 – 25th June 2018

Fix: Minor css, js, php bugs

3.0.2 – 19th June 2018

Added: Agent can edit all properties option
Fix: Minor css, js, php bugs

3.0.1 – 17th June 2018

Added: Text Field - search form drop-down order list by popularity or alphabetically
Fix: Minor css, js, php bugs

3.0 – 15th June 2018

Added: Social login / register - Facebook, Twitter, Gmail, Linkedin
Added: Favorite Properties
Added: WooCommerce Payments Gateway
Added: Save Search + mailing about new properties aded
Added: Display submit property form before login / register
Added: Front-end submit property - steps
Added: Property Attachments
Added: Add "Additional Features" module via Front-end panel
Added: Limit number of photos and size for Front-end panel
Added: Login / Register popup when someone click "Add to Favorite" or "Save Search" 
Added: Page Builder element - Pricing Table
Added: New user roles: Agency and Buyer
Added: Agent can join Agency via token
Added: Agency can invite Agent via typing email
Added: Max images number per property
Added: Max size of single image (MB)
Added: Max plans number per property
Added: Max size of single plan (MB)
Added: Max attachments number per property
Added: Max size of single attachment (MB)
Added: Properties expire after X days
Added: Map clusters - on / off
Added: User can select account type when register option
Added: Validate number field option
Added: "Street View" - on / off
Added: Front-end panel - Text Field - Auto-fill form values based on Google Map address 
Added: Front-end panel - Text Field - Autocomplete
Updated: All plugins
Fix: Minor css, js, php bugs

2.1.17 – 9th April 2018

Updated: All plugins
Fix: Minor css, js, php bugs

2.1.16 – 26th March 2018

Added: MyHome IDX Broker - Auto Setup
Added: Blog - display posts in 3 or 4 columns option
Added: Unfold first property plan by default
Added: Hide Login / Register / User Menu at top bar option
Updated: All plugins
Fix: Minor css, php bugs

2.1.15 – 21st March 2018

Added: MyHome IDX Broker - new pages available
Updated: All plugins

2.1.14 – 19rd March 2018

Added: Agent List / Carousel - choose by ID
Added: Blog - Custom Sidebar option
Added: Blog - Title and subtitle option 
Fix: Minor css / js / php bugs

2.1.13 – 8rd March 2018

Added: MyHome Demo Importer - server requirements checker
Fix: Minor bugs

2.1.12 – 3rd March 2018

Fix: Minor bugs

2.1.11 – 1st March 2018

Added: Single Property Page shortcode module
Added: Property cards - gallery - max number of photos
Fix: Minor js / php / css bugs

2.1.10 – 20th February 2018

Added: Google Map mobile dragging
Added: Property comments option

2.1.9 – 18th February 2018

Improvment: IMPress for IDX Broker integration
Fix: Multiple prices on the property card bug

2.1.8.2 – 17th February 2018

Improvment: IMPress for IDX Broker integration
Fix: Minor php bugs

2.1.8.1 – 15th February 2018

Fix: Minor php bugs

2.1.8 – 14th February 2018

Improved: IMPress for IDX Broker plugin integration
Updated: all plugins

2.1.7 – 12th February 2018

Added: load combined and minified MyHome Theme CSS files option
Improved: overall speed

2.1.6 – 9th February 2018

Fix: Minor css, js, php bugs

2.1.5 – 9th February 2018

Fix: Minor css, js, php bugs

2.1.4 – 3st February 2018

Added: IDX Broker - Automatic Synchronization via Cron
Updated: All plugins

2.1.3 – 1st February 2018

Added: 190+ color pickers to customize most of MyHome colors without CSS knowledge
Improved: MyHome Options - new order of the options for better readability

2.1.2 – 25th January 2018

Fix: Minor css, js, php bugs

2.1.1 – 16th January 2018

Added: Parent field type: Relationships based on manual choice
Fix: Minor css, js, php bugs

2.1.0 – 3th January 2018

Added: Full IDX Broker Integration

2.0.1 – 2.0.27.1 – 12th October 2017 – 30th December 2017

Added: Offer type - text "before" price option
Added: Frontend user panel - "My properties" searching option 
Added: Frontend submit property - drop-down options - "Alphabetic" 
Added: Frontend submit property - drop-down options - "Most popular" 
Added: Login / register - choose the first visible tab on /panel/
Added: VC Search form left / right - add elements to sidebar
Added: Custom search forms for autogenerated pages
Added: Search form - "Checkbox" field move "checked" to the top of the list
Added: Property cards - icons
Added: Single property page - icons
Added: Open property in the new window option (map/listings etc.) 
Added: Pagination option on autogenerated pages
Added: Single property "sidebar elements" backend (CTA)
Added: Top bar  - WPML flags 
Added: Properties "Sort by:" Alphabetic order
Added: Unlimited number of prices and price ranges (from - to)
Added: Single page top title header image edit on backend
Added: Property search form Visual Composer - pagination option
Added: Footer always sticky to bottom on the short pages
Added: Price range (from - to) option
Added: Single property - display multicurrency in the sidebar
Added: Login / register text in top bar option
Added: Search form - hide number of results (e.g. 40 Found)
Added: Hide address globally option
Added: Excerpt limit option on property card
Added: Frontend registration - confirmation email option
Added: Frontend registration - welcome email option
Added: Get email notification when new property has been added
Added: Get email notification when property require moderation
Added: Get email notification when property has been updated
Added: Get email notification when new user has been registered
Added: Notify user when property has been approved
Added: Notify user when his property was declined
Added: Single property sticky sidebar
Added: Login / register reCAPTCHA
Added: Single property gallery and slider 60+ new transition types 
Added: Related properties on single property page
Added: Property ID - display on the property card option
Added: "Back to search" link in the single property breadcrumbs
Added: Testimonials option "read more" 
Added: VC button  - link to page (list)
Added: Breadcrumbs
Added: Gallery option on the search forms property card
Added: Inbuilt cache system
Added: Schema.org - microformats
Added: Menu custom colors
Added: Sold label - you can set that property is not displayed in the search form
Added:  Property list Visual Composer element
Added: Single property backend - multi-select fields based on selectize.js
Added: Submit property - text input comma separated multiple values
Added: New field type: ID
Added: Unlimited multicurrency option
Added: Unlimited rent labels e.g. /month, /week, /day
Added: Search form: multi-select field type
Added: Search form: autocomplete field type
Added: Search form: parent fields (dependency)
Added: Submit property: multi-select fields
Added: Submit property: own order of fields via /wp-admin/
Added: Submit property: add instruction to any field via /wp-admin/
Added: Submit property: set default location
Added: Submit property: hide any field
Added: Submit property: make any field required
Added: Submit property: choose field width 50% or 100%
Added: Agent Profile: create any new field to agent profile
Added: Agent Profile: create link field e.g. "website" 
Added: Agent Profile: display bio on agent profile
Added: Agent Profile: change password section
Added: Footer - chose number of columns
Added: Header: transparent sticky with light / dark background
Added: Single property - big header with featured image background
Added: Contact Form 7 build into single property page
Added: Property Fields - drag and drop instead of arrows "up" and "down"
Added: Custom Search Forms - create own unique order of fields for different pages
Added: Property Fields panel changed name into MyHome Options
Added: Default text when price is not set
Added: Single property page - set own section order via /wp-admin/
Added: Single property page backend multi-select fields

v.1.0.1 – 1.0.15 – 9th April 2017 – 20th September 2017

Added: Marketplace Demo - Slider instead of static image
Added: Single property address - change autocomplete address for any different text
Added: Google Maps styles: Roadmap / Satellite / Terrain / Hybrid
Added: Demo - Investments
Added: Demo - Agent
Added: Demo - Marketplace
Added: Visual Composer - Agent List
Added: Visual Composer - Property Search Form (with search button)
Added: Sticky Menu
Added: Visual Composer - Attribute Mosaic
Added: Auto Height Image Carousel
Added: Search form default "Sort by" option
Added: Search form "featured" properties only option
Added: Extended documentation
Added: Easy Social Share Buttons Plugin
Added: Contact Form 7 Plugin
Added: Contact page
Added: About Us page
Added: WPML integration
Added: Property Virtual Tour
Added: Set Header Logo Height
Added: Single Property Page - All "near estate" pins visible after loading a page option
Added: Property fields - display on property cards option
Added: Property fields - hide on single property page option
Added: Property fields - do not use as a links on single property page option
Added: New Front End Panel Image uploader - drag and drop option
Added: Widget area to single property page
Added: Widget area to listing with search form on sidebar
Added: Possibility to add empty dropdowns
Added: Currency - thousands separator and decimal separator option
Added: Agent option panel - choose fields you want to show
Added: Single property - switch on/off sidebar
Added: Single property - switch on/off contact form
Added: Single property - switch on/off agent info
Added: Map colors - gray, default by Google and custom
Added: Documentation +8 page
Added: Display on / off - "Advanced" button,
Added: Display on / off - "Clear" button,
Added: Display on / off - "Sort by" filters,
Added: Display on / off - "grid" option,
Added: "Number of filters to show before the Advanced button" option
Added: RTL support
Added: property Video - support mp4 format